After a great day on the river with Paul, I arrived back at the camp to expect to see Dad, Joe and Bill there but they were running a bit late. So I made some supper and a hot cup of tea to try to warm up a bit. This evening was to be the last session around the campfire for 2012 so I needed to build a foundation to support the evening's events. Shortly after I got the camp warmed up and supper finished the lads showed up. Apparently a back road navigational error in unfamiliar territory caused a lengthy backtrack. Oh well, at least everyone was safe. We bundled up, arranged ourselves around the campfire and began agitating. As the evening wore on and the wood supply dwindled we realized how cold it was and decided it was time to retreat to the warmth of the trailer. Doug was supposed to come up that evening but he was pretty beat from a long week at work and wouldn't be up until the next morning. Our plans were to meet up somewhere on the Cains and fish together for the last time this season.
A cool evening campfire: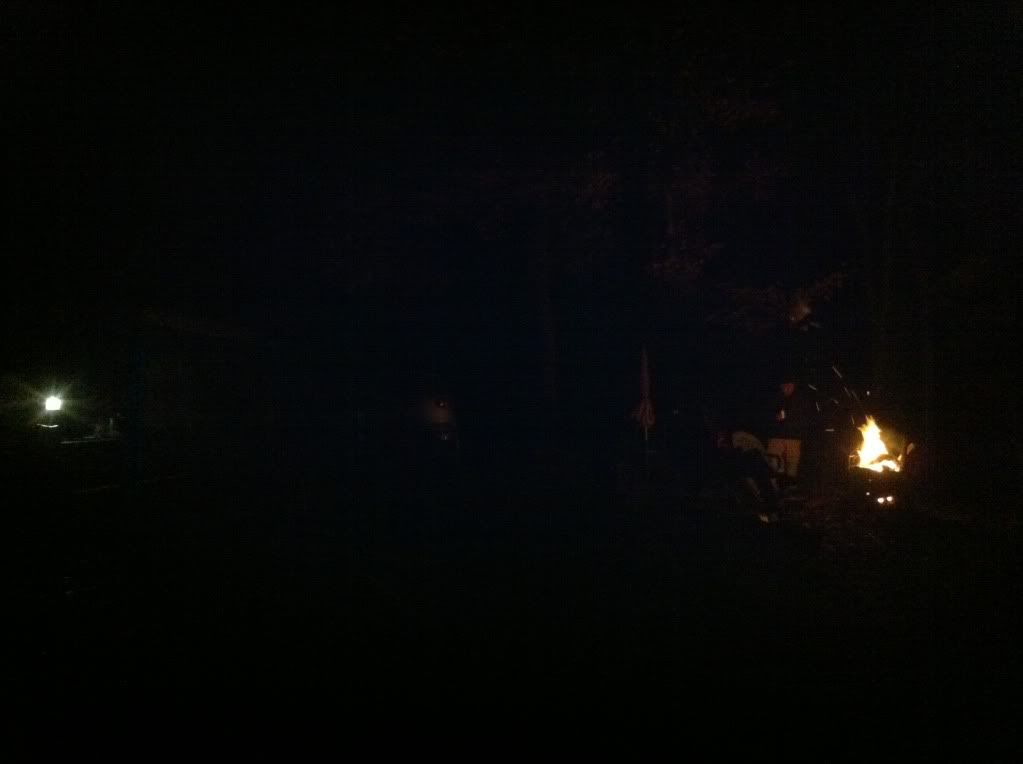 There were to be no alarms the next morning as our mission was simply to finish closing and winterizing the camp, have some breakfast and head home while stopping for a quick fish along the way. Dad, Bill and Joe opted not to fish and headed straight for home.
Ice from the 'automatic dishwasher':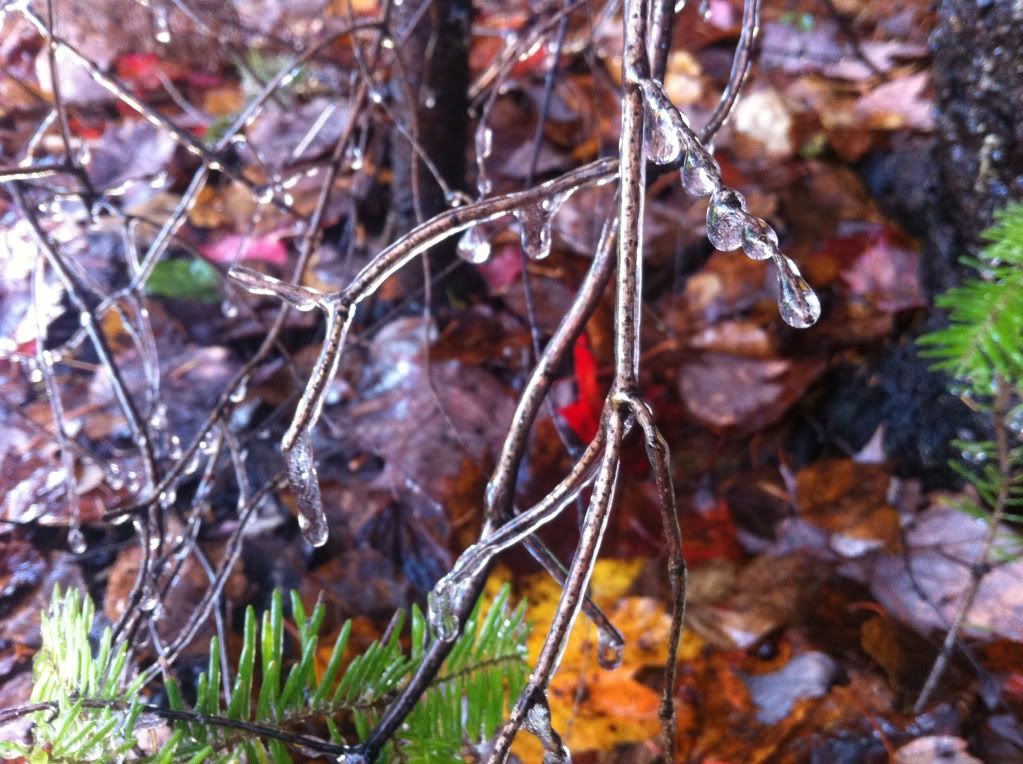 A cold set of waders: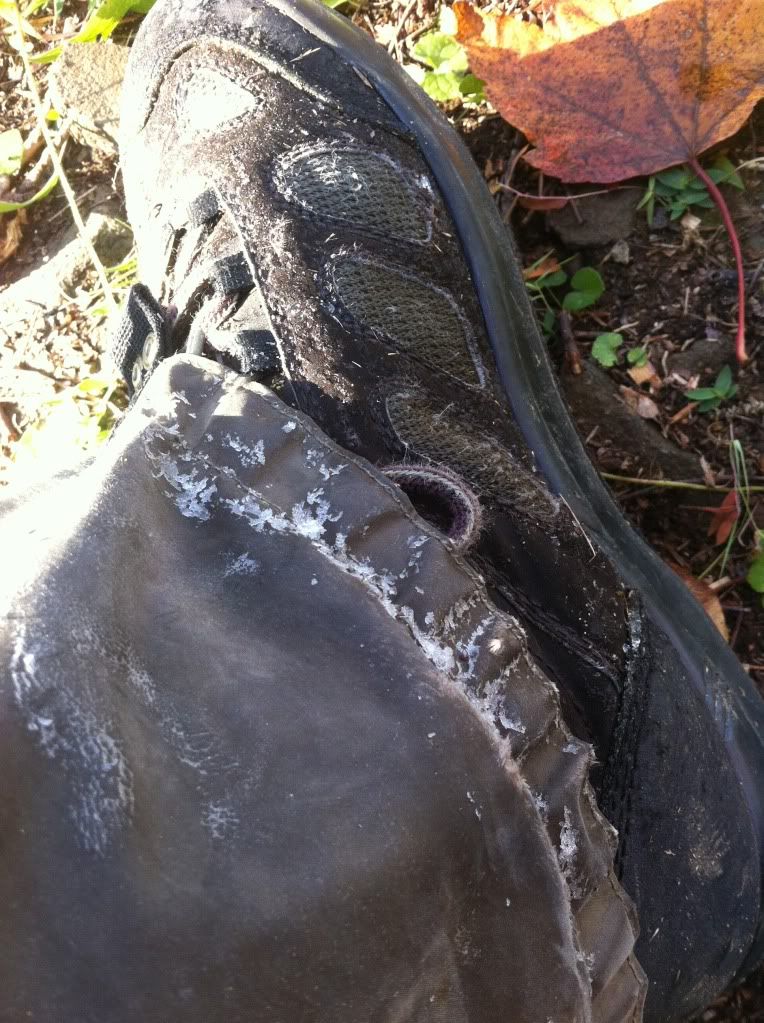 The Southwest Miramichi: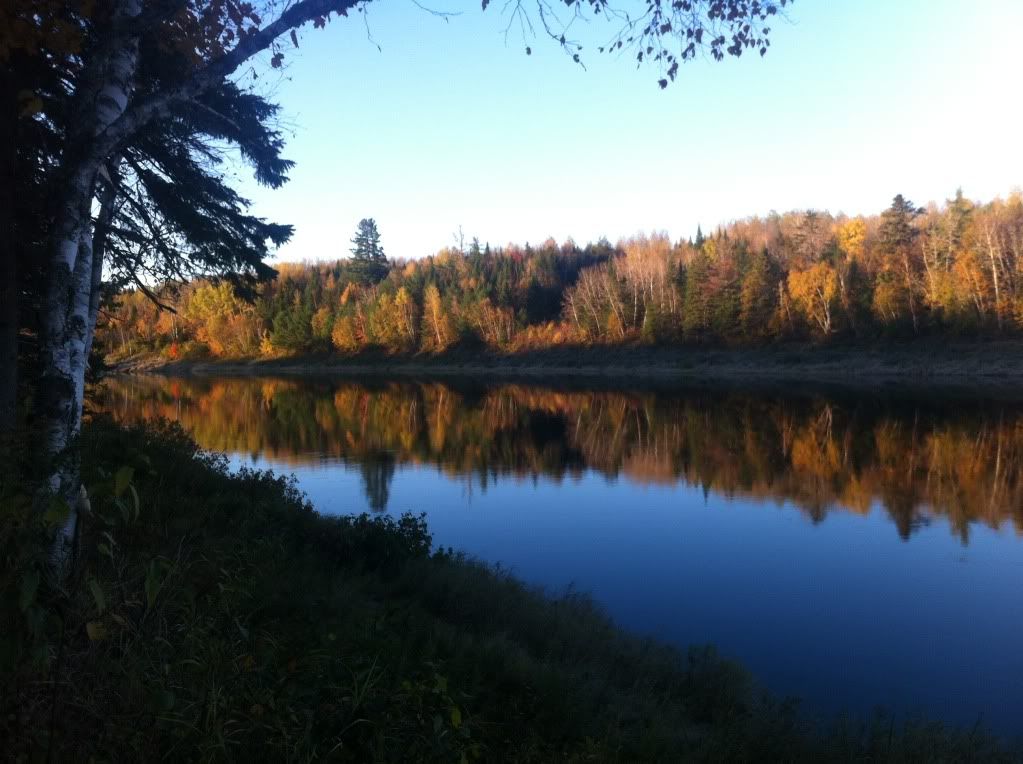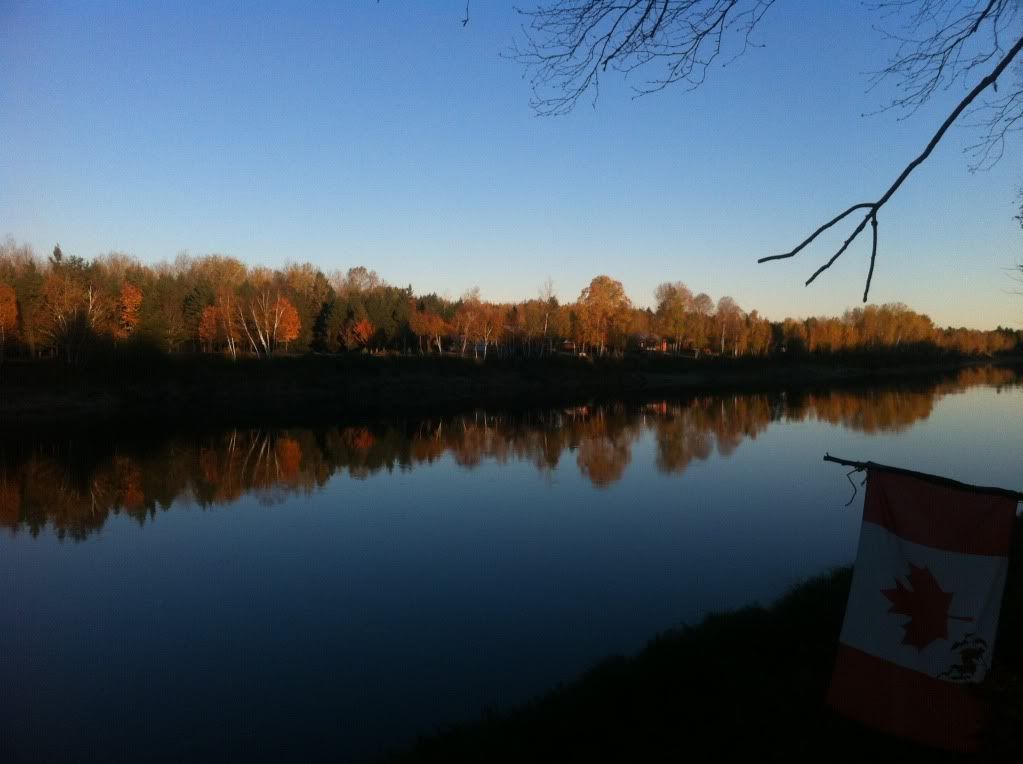 One of the half dozen Whiskey Jacks who joined us for breakfast:
http://en.wikipedia.org/wiki/Gray_Jay
A.K.A. Canada Jay, Gray Jay, Moose Bird, Gorby – this critter of many names are amazingly bold and will often eat from your hand.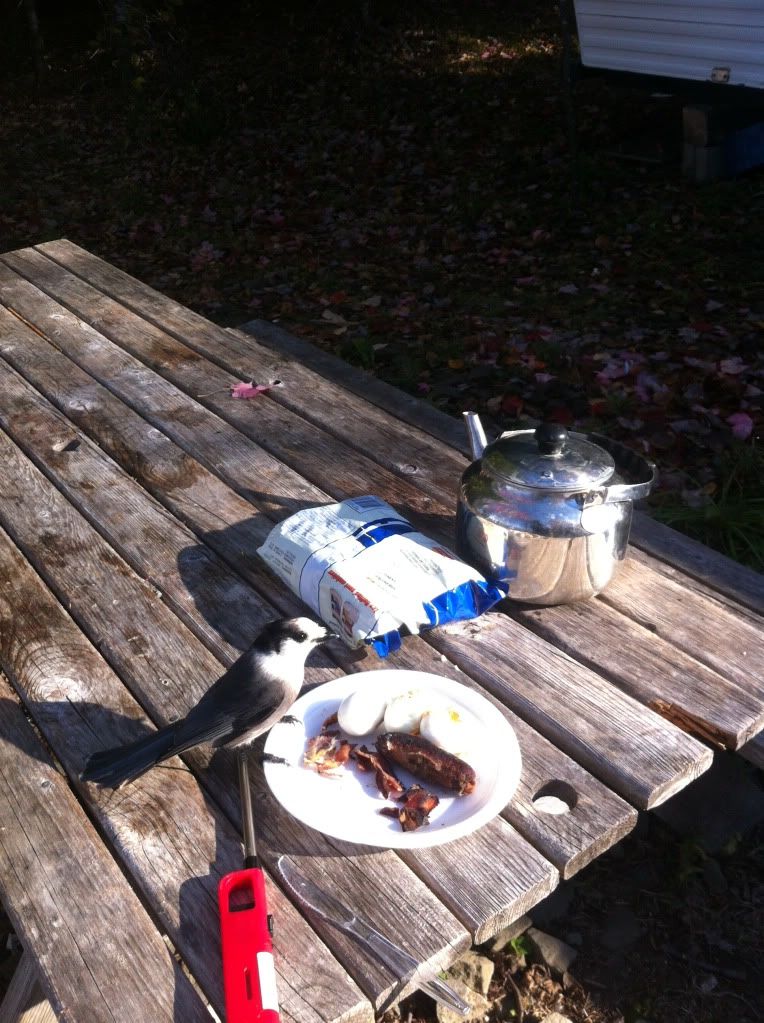 After we finished eating and cleaning up we briefly discussed our plans to begin building the Wulff Den proper next spring! 2013 is going to be an exciting year at the camp, assuming of course we all survive Dec 21st/2012 *rolls eyes* So we said good-bye to the camp, then each other and hit the road. I headed into the woods up the South Cains road to my first stop.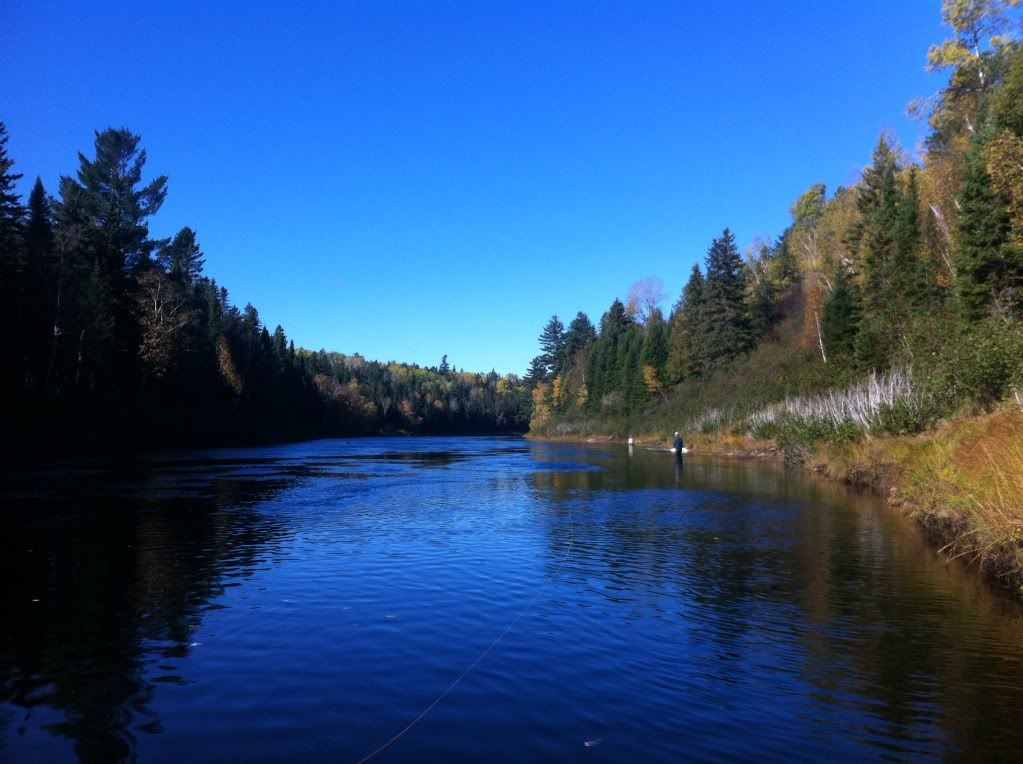 Last year Doug and I had an incredible fall fishing session at this pool – We showed up, made one pass through the pool, he landed a monster salmon, I landed a grilse and I broke off another monster – all in the first pass among a number of other fishermen. I was hoping for a second chance at the monster that broke me off but it was not meant to be. I did see a couple fish porpoise but there was to be no love for the Canary. Midway through my first pass Doug showed up and we chatted about what to do and he said casting at the next pool up would be a whole lot easier – he also uses a spey rod but only uses it overhead so he needs a lot of room for his back cast. I was happy he showed up as I was seriously considering finishing my season for good after that first pass …
We arrived at salmon brook to find a few fellows having a midday snack in the parking area. They were nice enough lads, and we had a great discussion about live release and conservation… Our chat got onto the striped bass and grey seal situation and it was agreed that something needed to be done. These gentlemen had caught striped bass as high up the Southwest Miramichi as Blissfield. We each shared our favorite preparation methods for bass … I'll leave it at that…
(remember the red leafed tree mentioned in part 1?)
So down to the river we raced - I gave Doug a freshly tied marabou pattern and I opted to skip the Canary this time and tied on the Showgirl to see if I could pull out a Hail Mary on my last pass of the season. The Cains was also full of yellow and red leaves but clear. Doug went down through first and his plan was to just go down about 50 yards from the mouth of the brook and call it quits before hitting another pool. My plan was to make this pass then head out as I wanted to be home by suppertime. We each made our way down through, I was tucked up quite close to him for the amount of line we were throwing because there was quite a queue growing on shore. A longer cast means our swings also take longer and I was trying to observe the step-cast-step etiquette necessary in crowded public pools. To keep the conga line moving at the expected pace I had to start stripping in about ¾'s through the swing which was ok with me as my fly would be over the sweet spot before then anyways ;-) Doug finished his abbreviated pass and stepped out and went up to the queue area. When he was walking by he said 'Some quite, eh?' to which I agreed and said back to him 'I only have a dozen more casts and I'm done as well'. So I continued to work down through and I was really starting to get a feeling back for my Skagit line which I had only put back on earlier that morning as I knew we would be fishing 'river right' in heavy wind. For me this means double spey and that line punches through wind like nobody's business. I was down to about 3 steps remaining when I felt the BIG PULL again and saw a tremendous splash in front of me followed quickly by a "RIGHT ON HOWIE!!" from Doug who had witnessed the whole thing! I lifted up and started to fight this beautiful but dark hen fish. I was in a daze almost like it was the first fish I had ever hooked and didn't know what I was doing... I think it was more the shock of what had just happened – I mean these last minute, pull a rabbit out of your hat moments never happen to fellas like me?! Anyways, once Doug got down by my side and calmed me down it all started coming back and we worked on getting her in. It took a few attempts to tail her but no harm was done. She remained in the water for all but 5 seconds to snap a few pictures. We fumbled the hand off so I only managed a few pictures of Doug holding her. The exact same thing happened to us but in reverse last year on his much bigger salmon I mentioned in part 1. A fumbled hand off and the only pics that were taken were with me holding his fish. I can't say it bothers me because it's nice to see a fish that fought so hard take off so quickly with so much vigor. I guess that's the advantage of lots of cold water – a condition that was rare in 2012.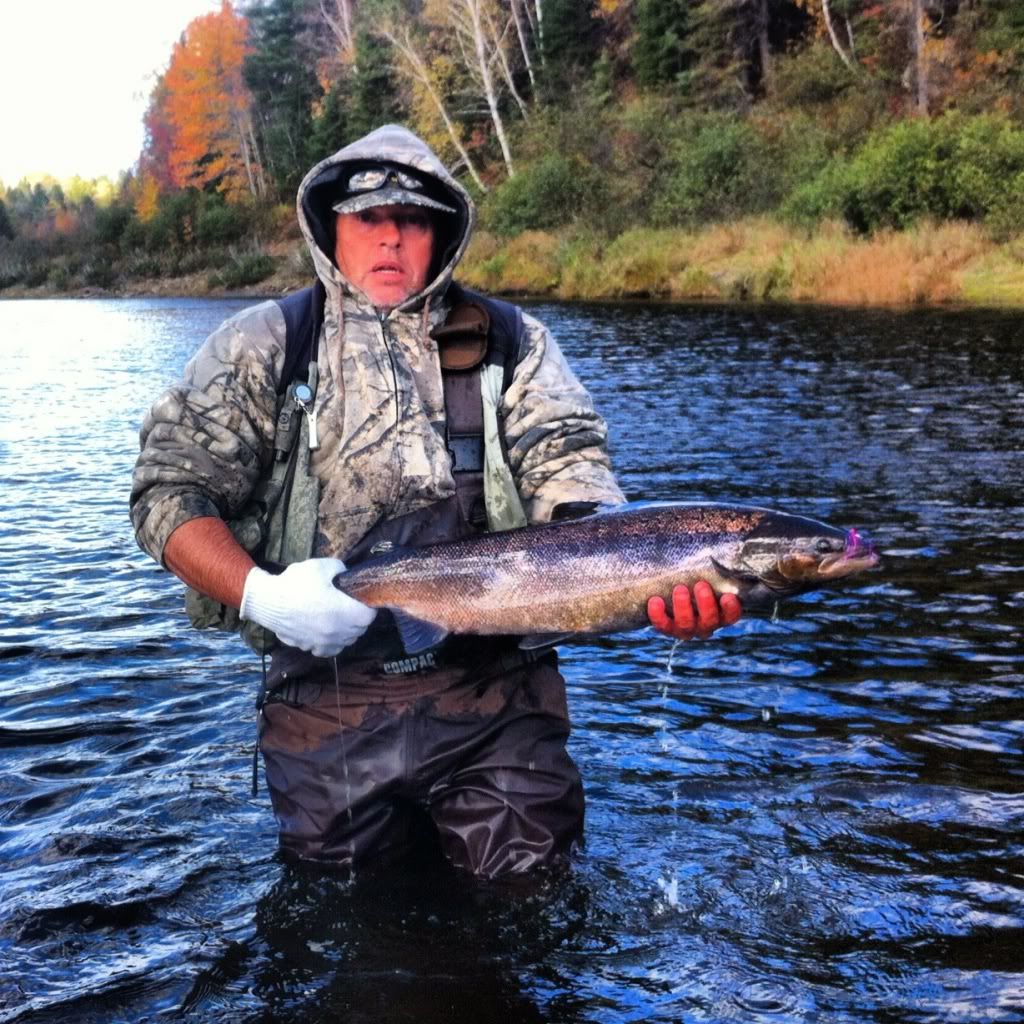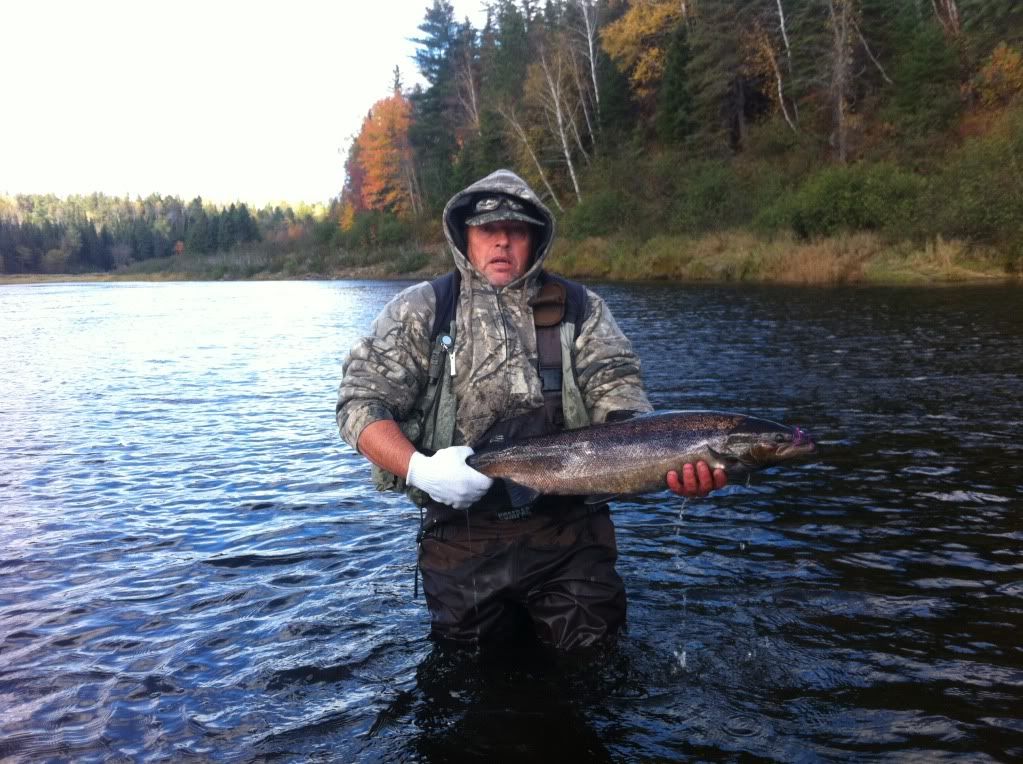 Thanks Doug, it was a great day on the river!